Regular price
Sale price
$50
Unit price
per
10% OFF
Ideal for chopping herbs or small portions of vegetables and for serving cheese and fresh fruit at the table
Crafted in natural olivewood, prized for its strength and beauty
Inlaid with our signature copper ring for a unique look and guaranteed authenticity
Made in Italy
View full details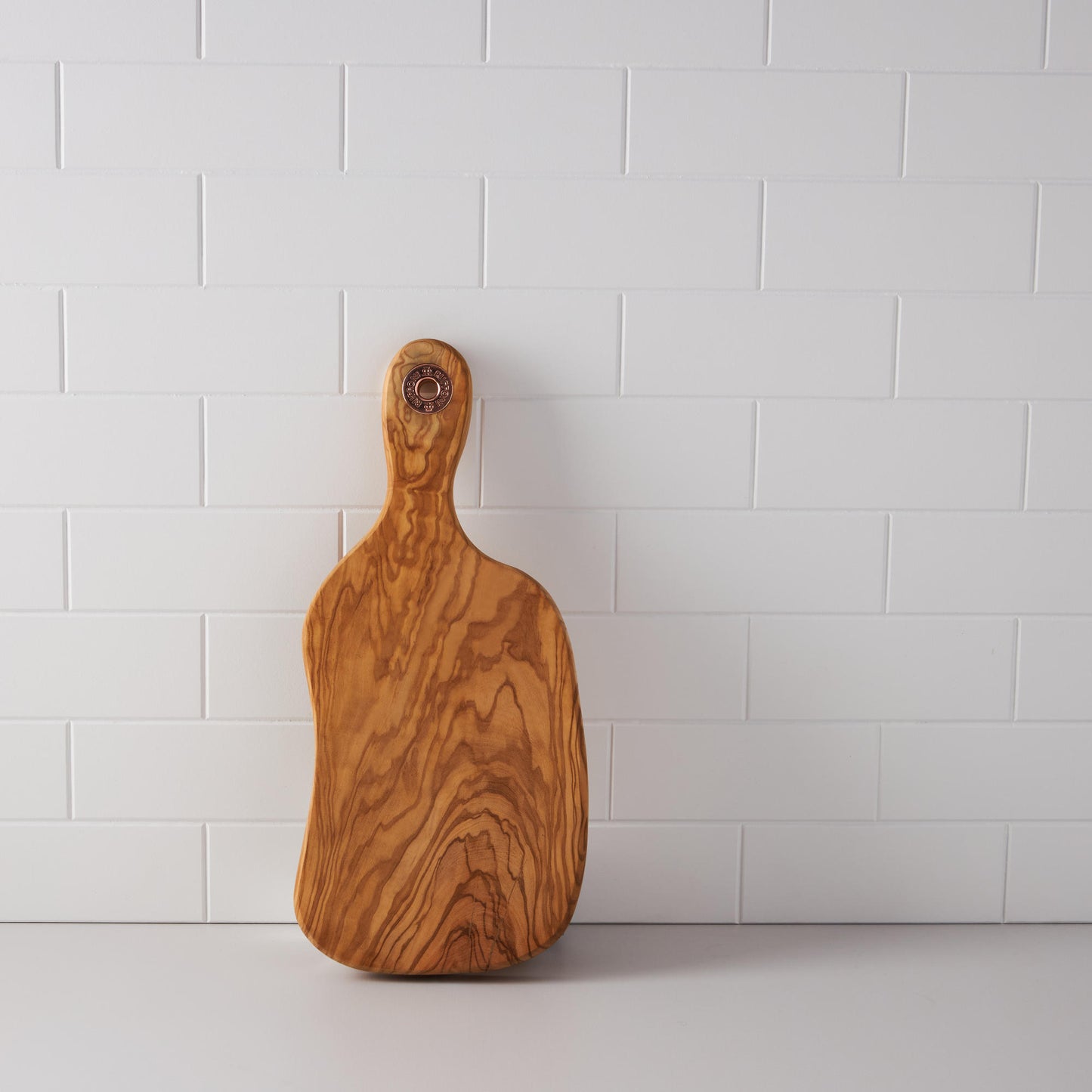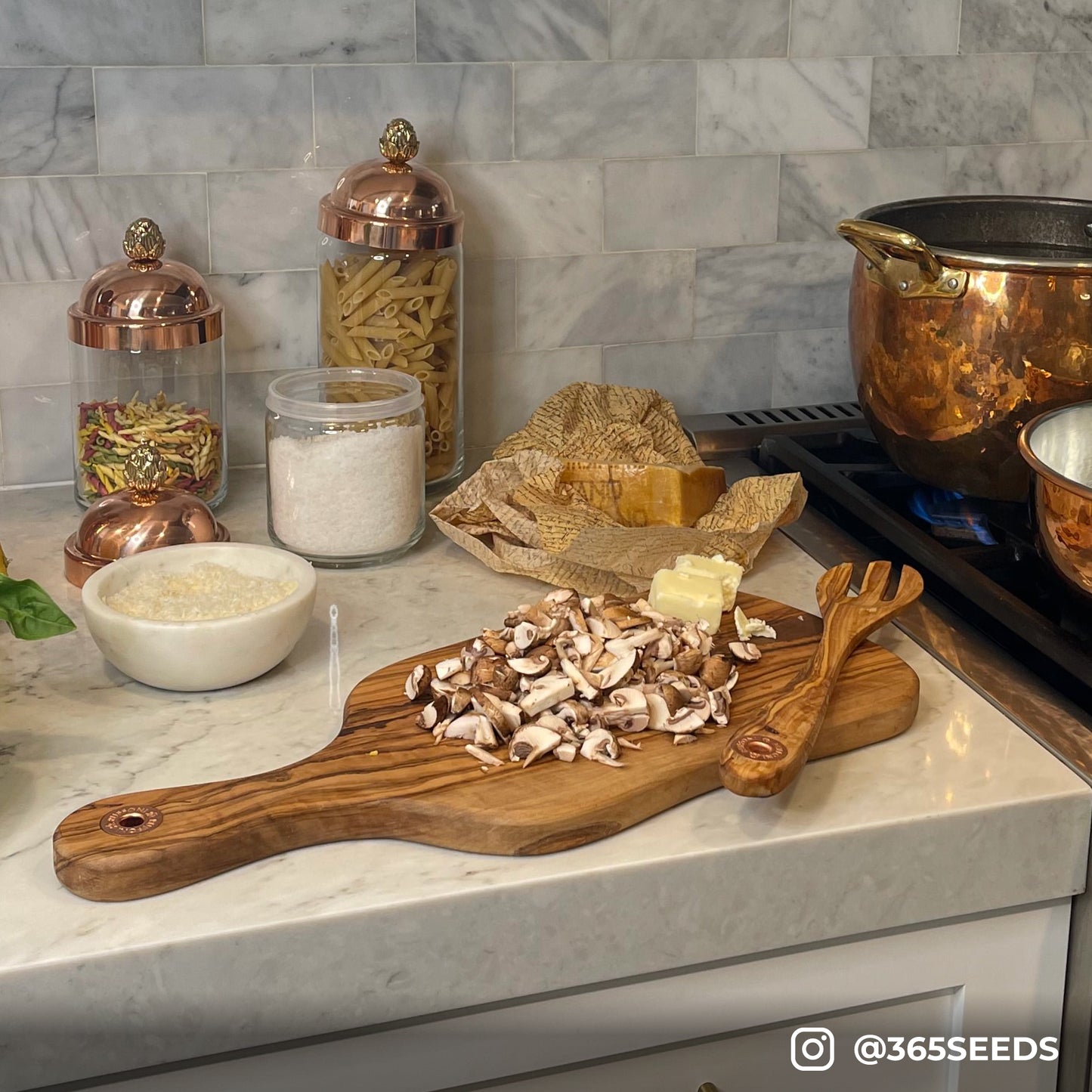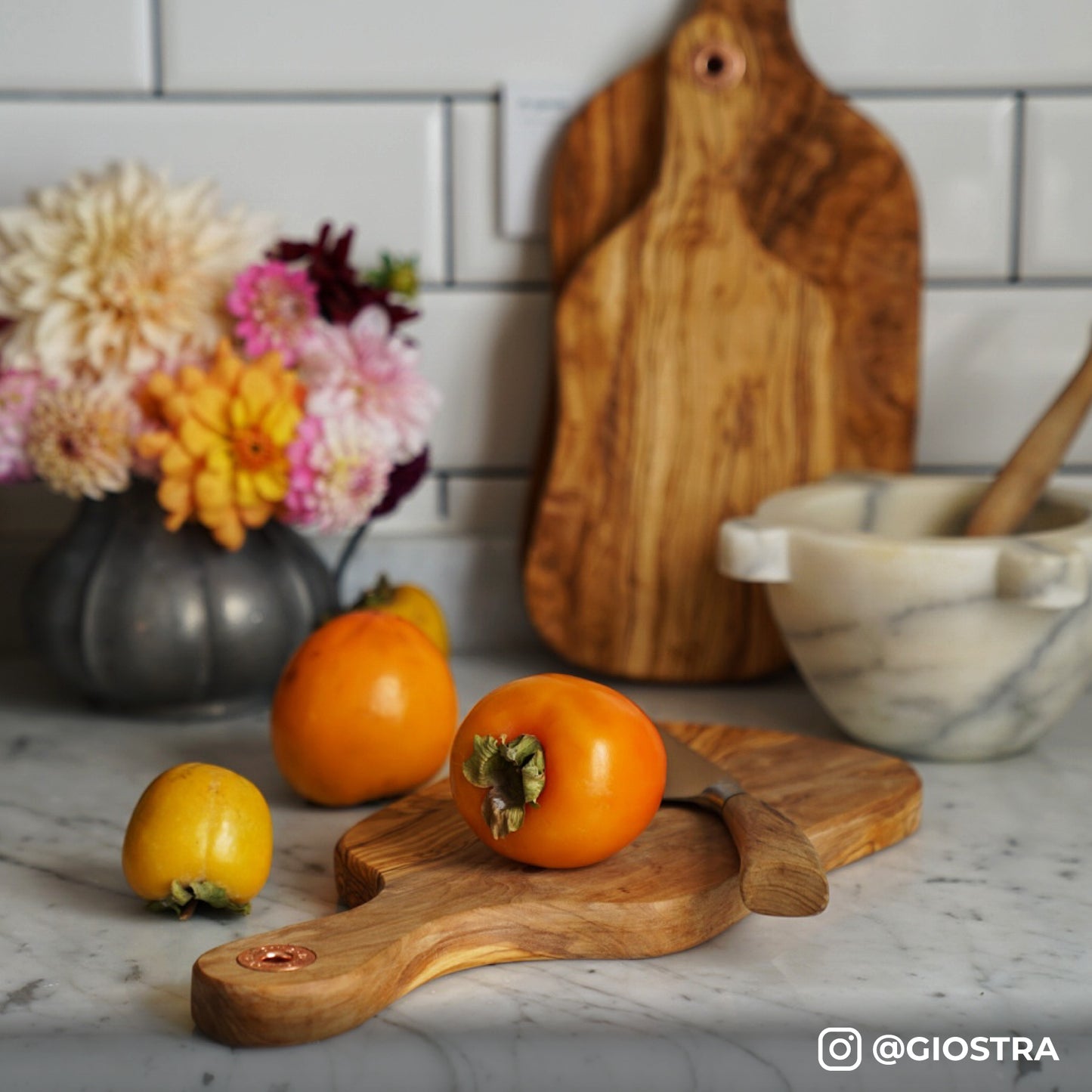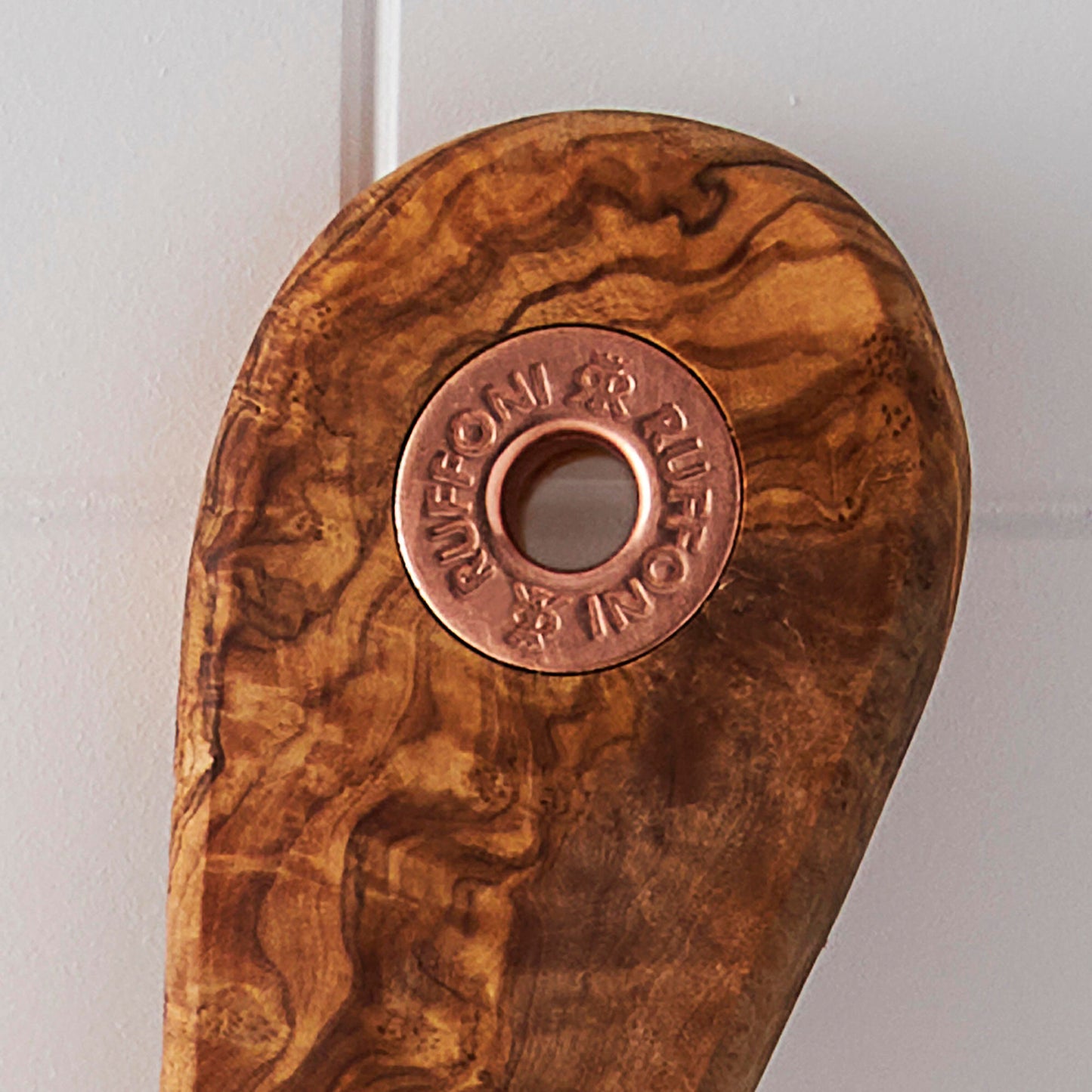 Learn more about this Ruffoni
Ruffoni boards can move seamlessly from the preparation area to the dining room, bringing a taste of the Mediterranean home with them. Entirely made in natural olivewood – a precious wood appreciated for its character and unmistakable appearance – each board is carved, sanded and finished by hand, and the handles are inlaid with the Ruffoni signature copper ring.

Hard enough to allow for smooth cuts, but easier on the knife's edge than plastic blocks, you can use the small Ruffoni olivewood board to finely julienne basil and other herbs, slice salame or bring directly to the table with a large chunk of parmigiano cheese for your guests to nibble on. And when the party's over, you can hang your olivewood accessories making use of their practical, striking copper ring detail to adorn your kitchen.

Beautiful and versatile, olivewood accessories are a lovely gift idea for any Ruffoni enthusiast but also an elegant collection starter, suitable for anyone.

Exact color and grain patterns will naturally vary
These Ruffoni accessories are made in natural olivewood, carved and sanded by hand to bring out the striking color variations and grain patterns of this noble material. Their beauty lies in their uniqueness – no two cutting boards are the same, just like no two homes are. If you prefer to pick the exact shade and pattern of the wood, we recommend picking your kitchen accessories at your favorite Ruffoni partner shop.

Made in Italy.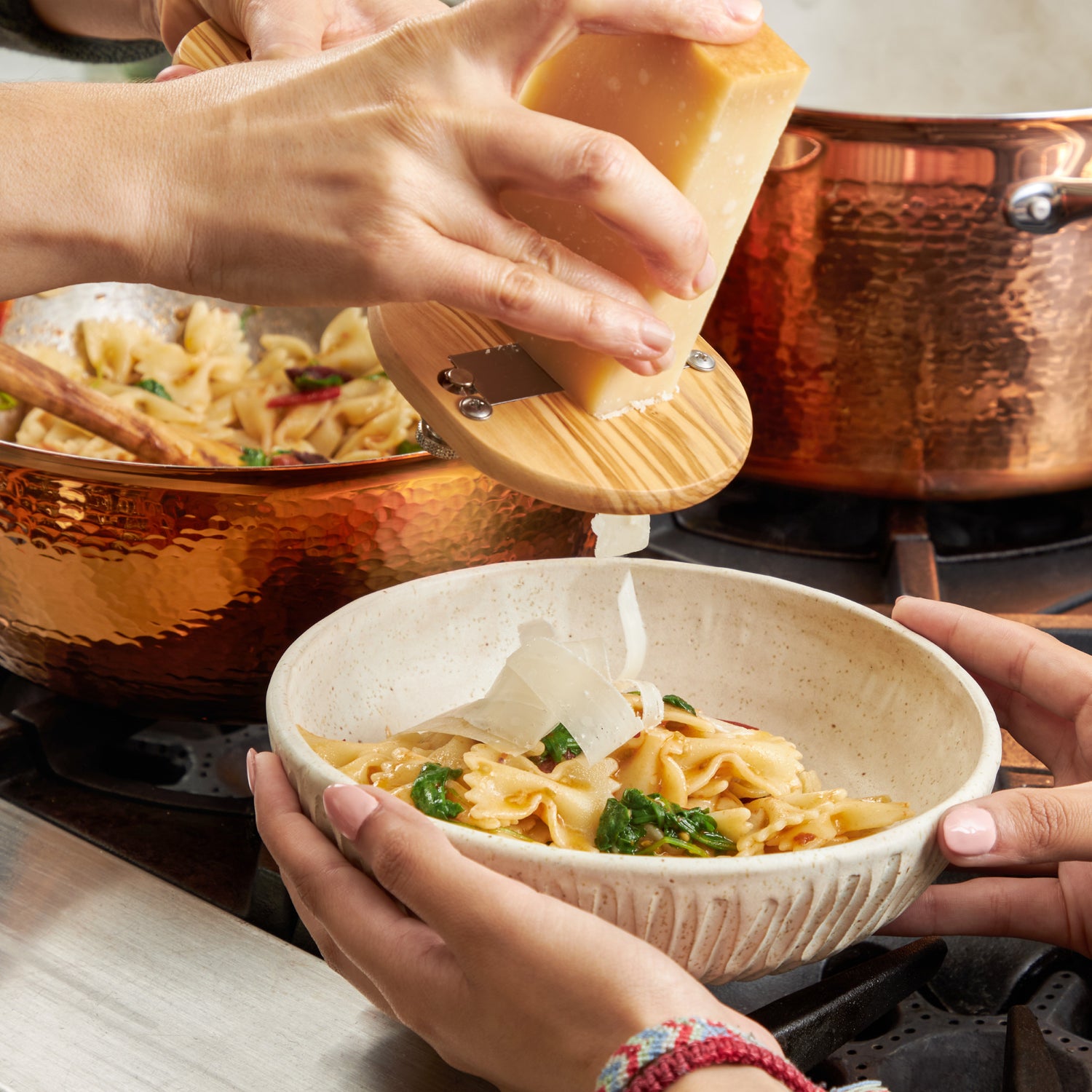 The Ruffoni accessories
Pots and pans might be the kitchen's main stars, but accessories and specialty pieces play a crucial supporting role. Some, such as the pasta insert and the warming stand are born as additions to main pieces and allow discerning home chefs to get even more use and enjoyment out of their collections. Others, like our jars and olivewood tools, don't need anything else: a lovely gift idea for a Ruffoni lover but also an elegant collection starter, suitable for anyone. Finally, some specialty items like the zabaglione bowl and jam pot honor antique confectionery traditions that rely on copper's fantastic thermal and chemical properties in the making of caramel, jams and preserves, whisking egg whites and creating zabaglione.
- Made of conductive solid copper, resistant stainless steel, clear glass and olive wood
- Heirloom quality items, worthy of being handed down through generations
- Recommended for cooking, gifting, and for a stunning presentation at the table
Shop the Ruffoni Accessories