Crafted in solid copper for superior heat conductivity
Hammered for increased strength and lasting beauty
Internally coated with practical, scratch-resistant stainless steel
Includes a pasta insert to save the starchy pasta water
The lid features The Pasta Queen's signature pasta crown
Made in Italy
View full details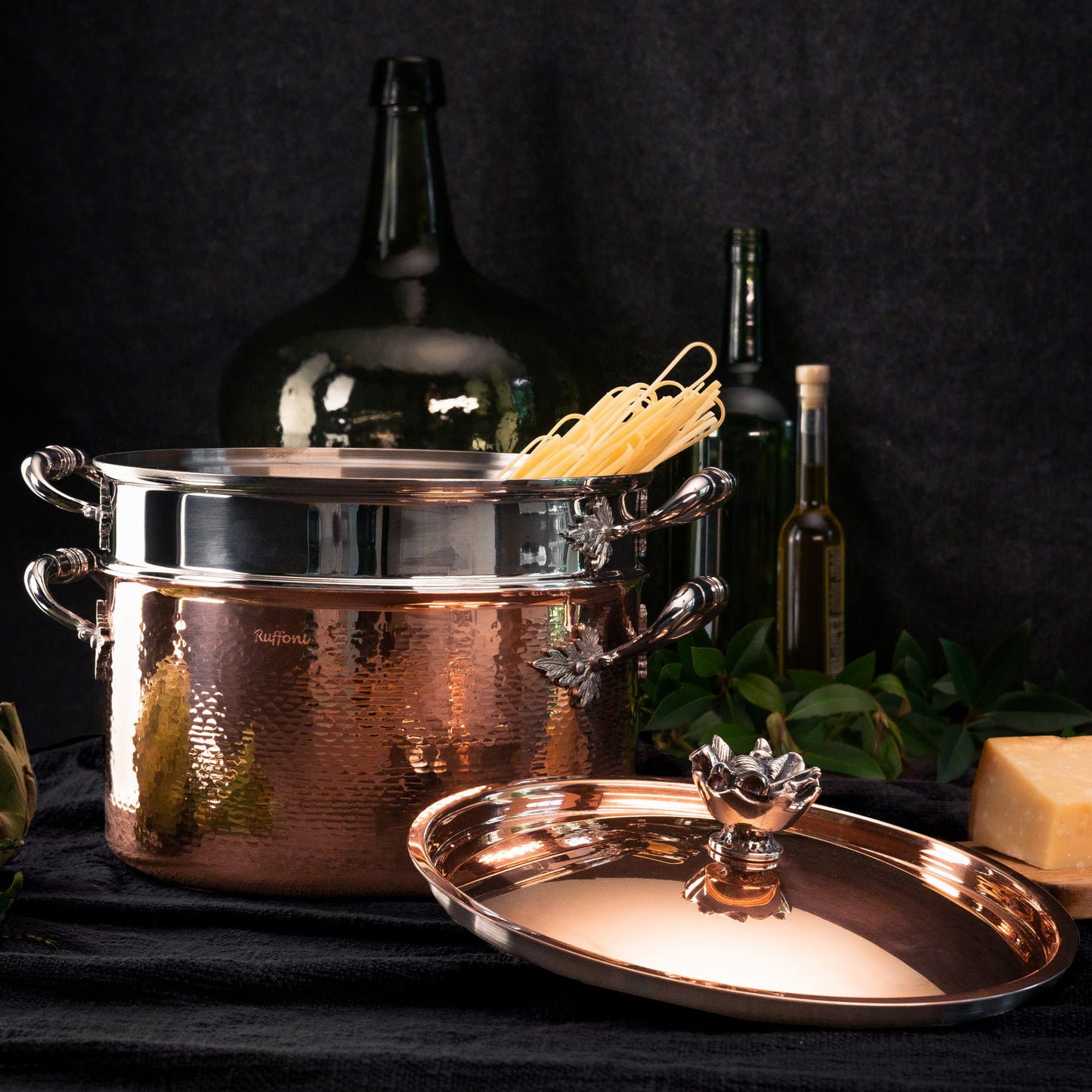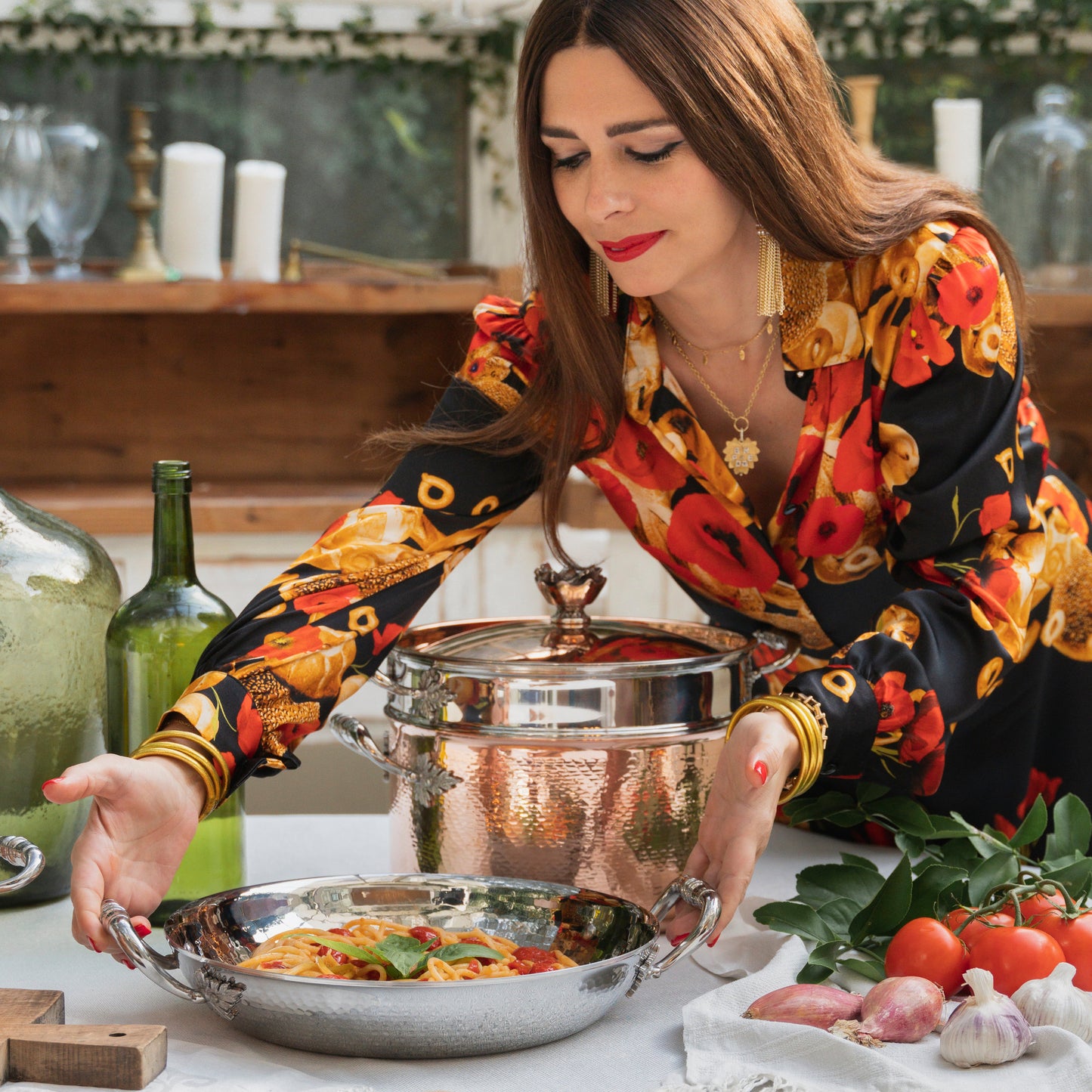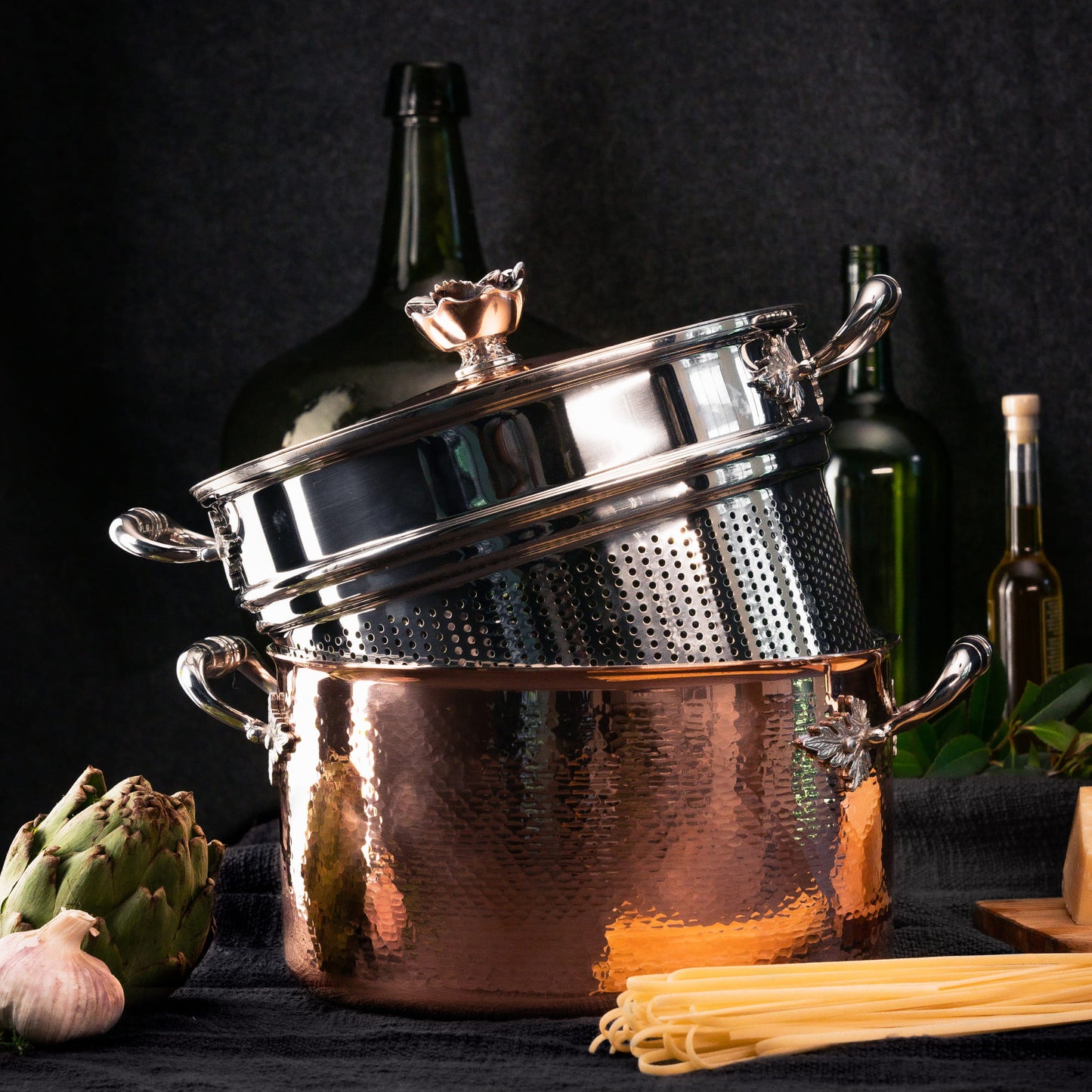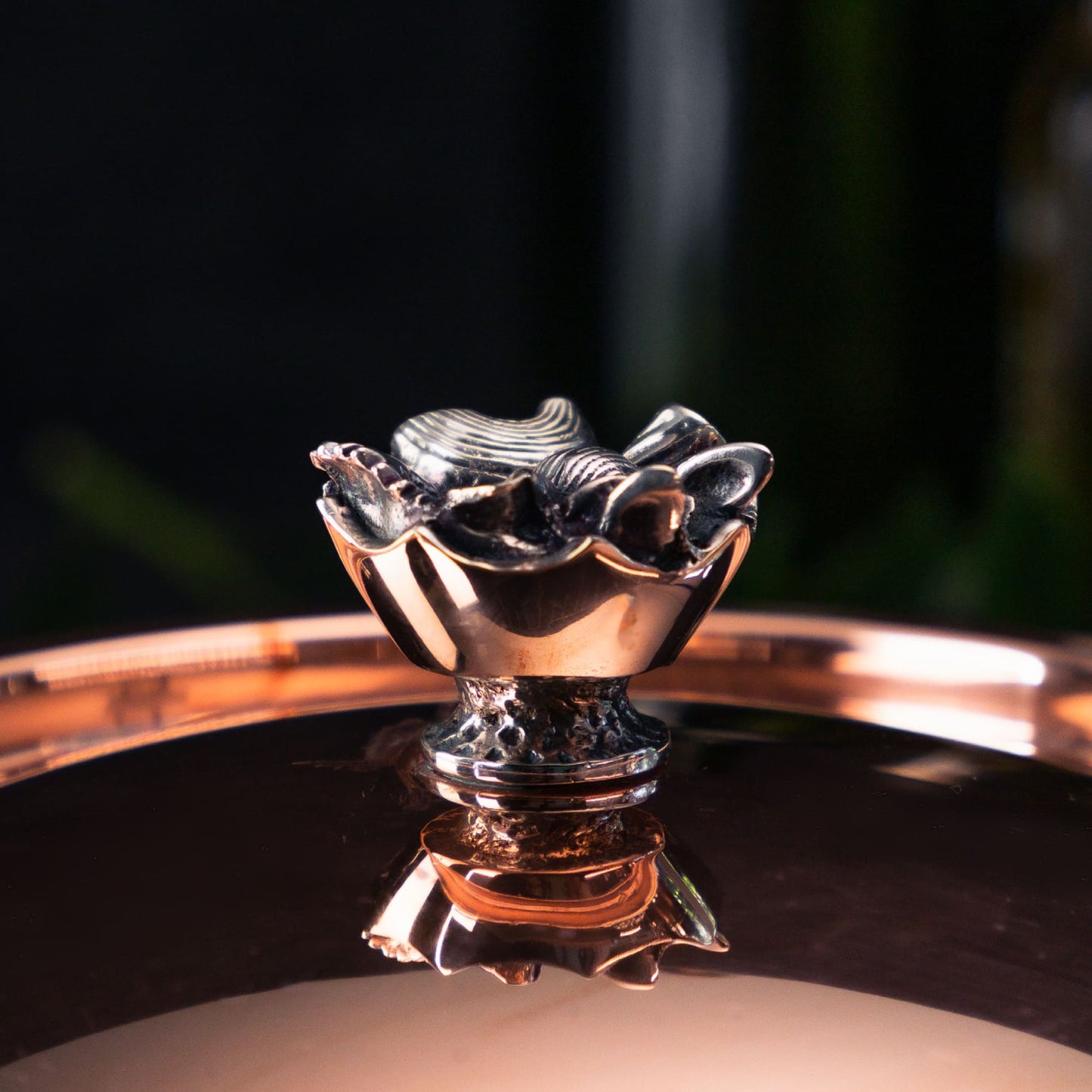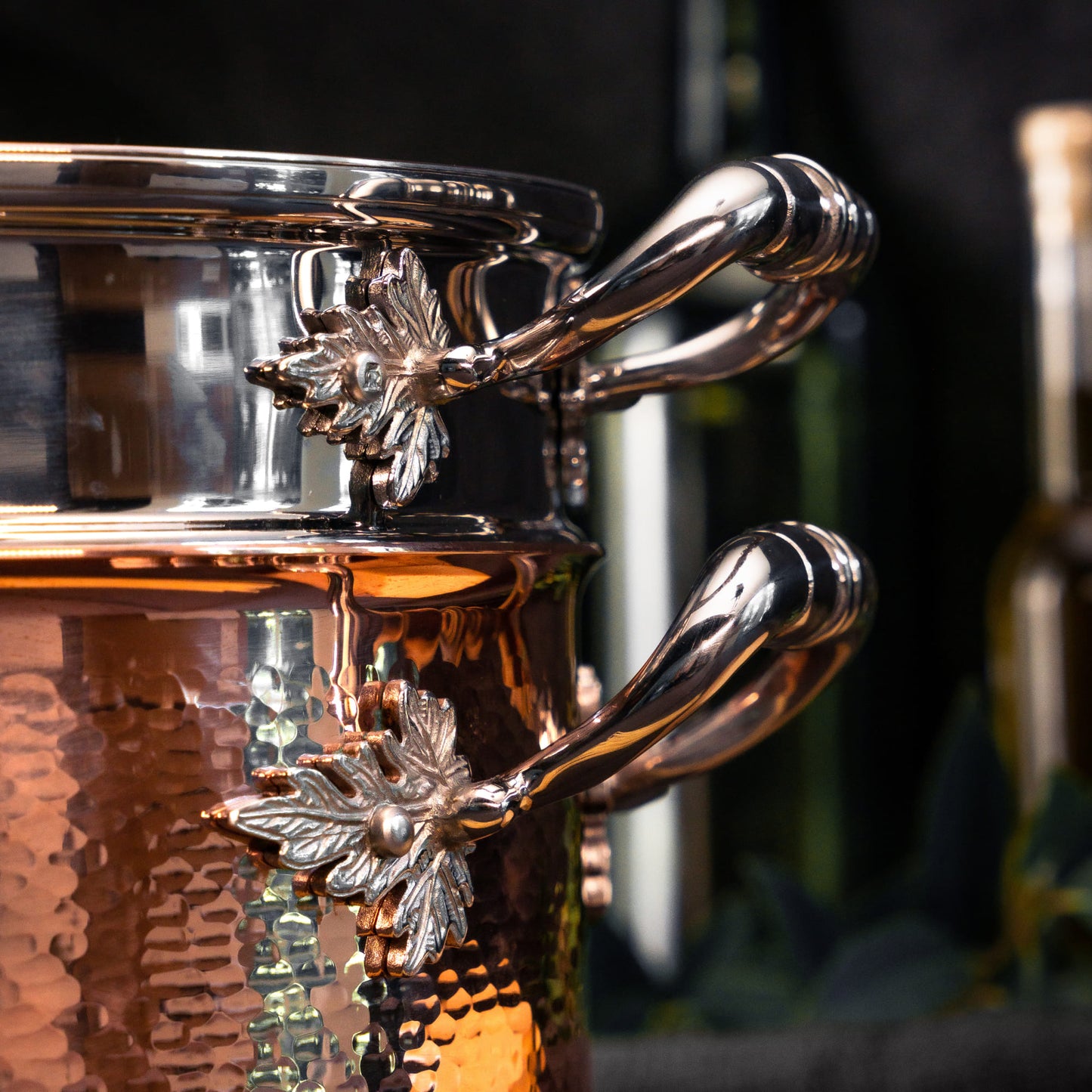 Learn more about this Ruffoni
The 8qt copper Pasta Pot/Stockpot lined with practical stainless steel
Caterina, the 8qt copper Pasta Pot/Stockpot lined with practical stainless steel, is the main character of The Pasta Queen Limited Edition. Rely on this capacious Stockpot for making soups, stock and of course for boiling pasta. The included Pasta Insert will help you save the precious pasta water (or "the Tears of the Gods", as The Pasta Queen calls it) – an essential ingredient to make extra velvety sauces that will cling to the pasta and coat it perfectly.

Crafted in solid copper for superior heat conductivity, hammered by our master artisans for increased strength and lasting beauty, and internally lined with practical, easy-to-care-for stainless steel. The stainless steel handles are decorated with delicate leaves and the lid is topped with a solid bronze, silver-plated knob in the shape of a crown, filled with Nadia's favorite pasta.

Made in Italy.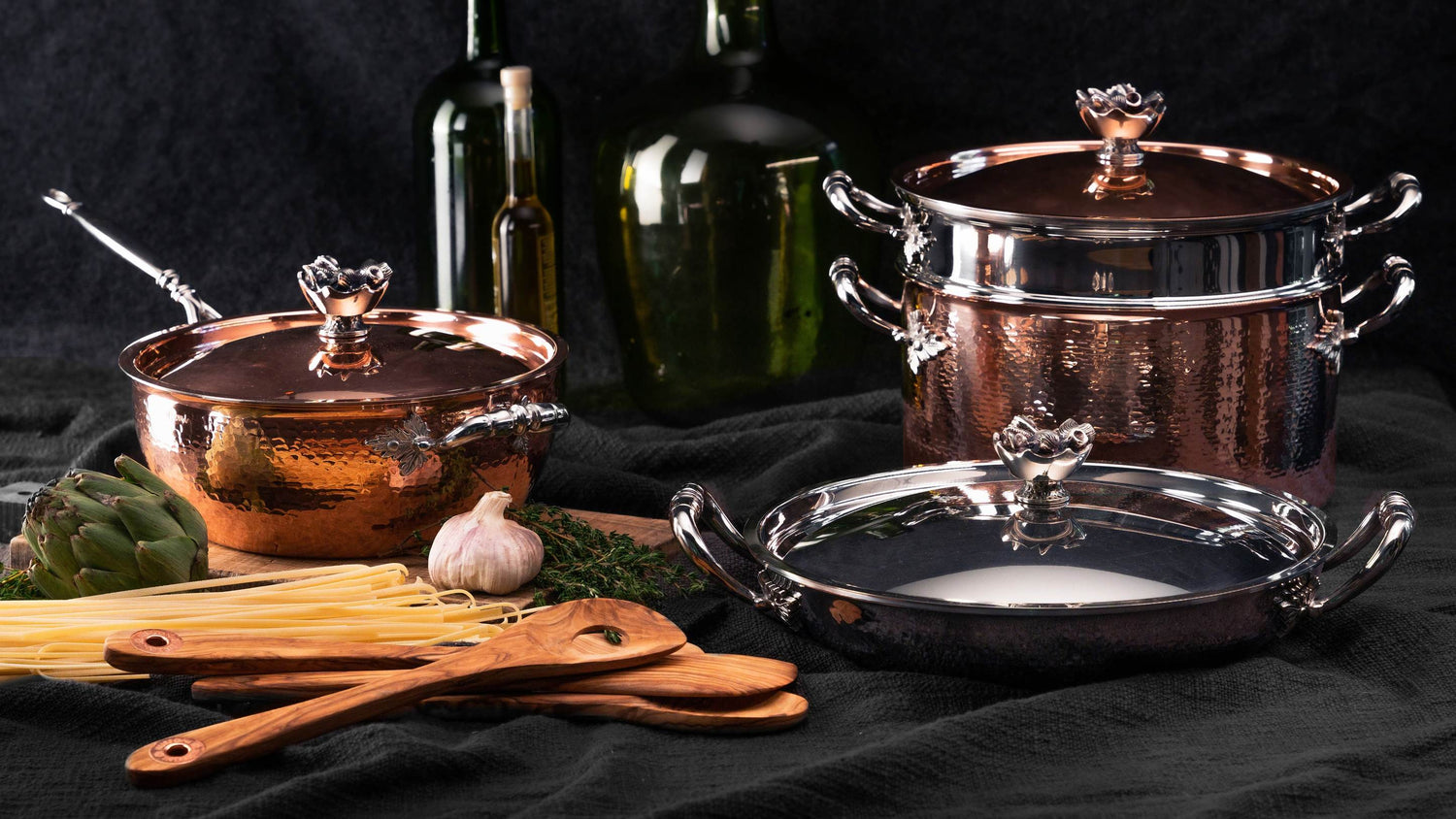 The Pasta Queen Collection
The Pasta Queen Collection is an heirloom-quality set of cookware that elevates your pasta making game. Through elegant details that add to your decor, and features that translate into delicious meals, this set was especially created to reflect The Pasta Queen's mission of showing everyone that they can combine great food, beauty, lifestyle, and Ruffoni's lifelong commitment to craftsmanship, quality and functionality.
This stunning set is made of solid copper and clad stainless steel – the materials of the Ruffoni tradition – for superior heat-conductivity and practicality. Each piece is handcrafted by our skilled artisans, hammered for increased strength and lasting beauty, and finished with The Pasta Queen's signature pasta crown.
The set's composition, shapes and sizes were especially selected by The Pasta Queen to help her followers recreate her mouthwatering pasta recipes. A trustworthy ally in all culinary adventures, The Pasta Queen Collection will also effortlessly adorn the kitchen when not in use.
Just gorgeous! 
Learn more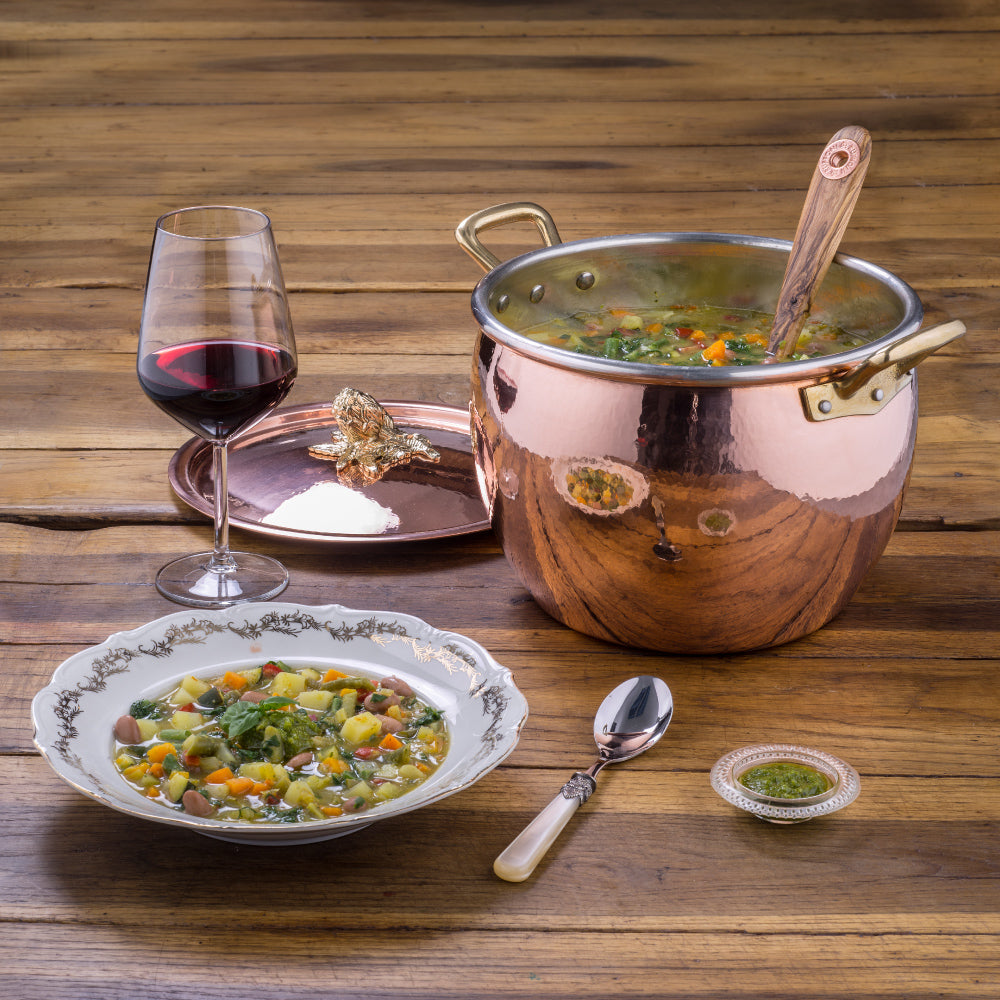 Getting the most out of your Ruffoni Stockpot
Stockpots are approximately as tall as they are wide: a clever proportion that maximizes their capacity, meaning you can cook plenty of food at once.
Fill with water and any veggies found wondering at the back of the fridge for a light and tasty homemade vegetable stock, or add meat and bones for delicious homemade stock which can be used in any number of dishes (our favorite: risotto!). Alternatively, make a flavor base with soffritto, then layer on your favorite seasonal vegetables and simmer gently for endless soup options, nourishing and satisfying. The stockpot can also be used to gently simmer grains or prepare oatmeal for breakfast, or take a page out of all nonnas' book and mix vegetables, legumes and short pasta for a nourishing minestrone that the whole family will enjoy.
Bring directly to the table to keep your soup warm until serving and elevate any simple supper to special occasion. Store your stockpot right on the stovetop or on a display shelf when not in use to enjoy its warm shine every time you walk into your kitchen.
Shop Stockpots