Ideal for simmering pasta sauces, stocks, and reductions
Crafted in tri-ply clad stainless steel: induction compatible, practical and super conductive
Hammered for increased strength and lasting beauty
Crowned with a silver plated finial in the shape of a carrot and pepper
Made in Italy
View full details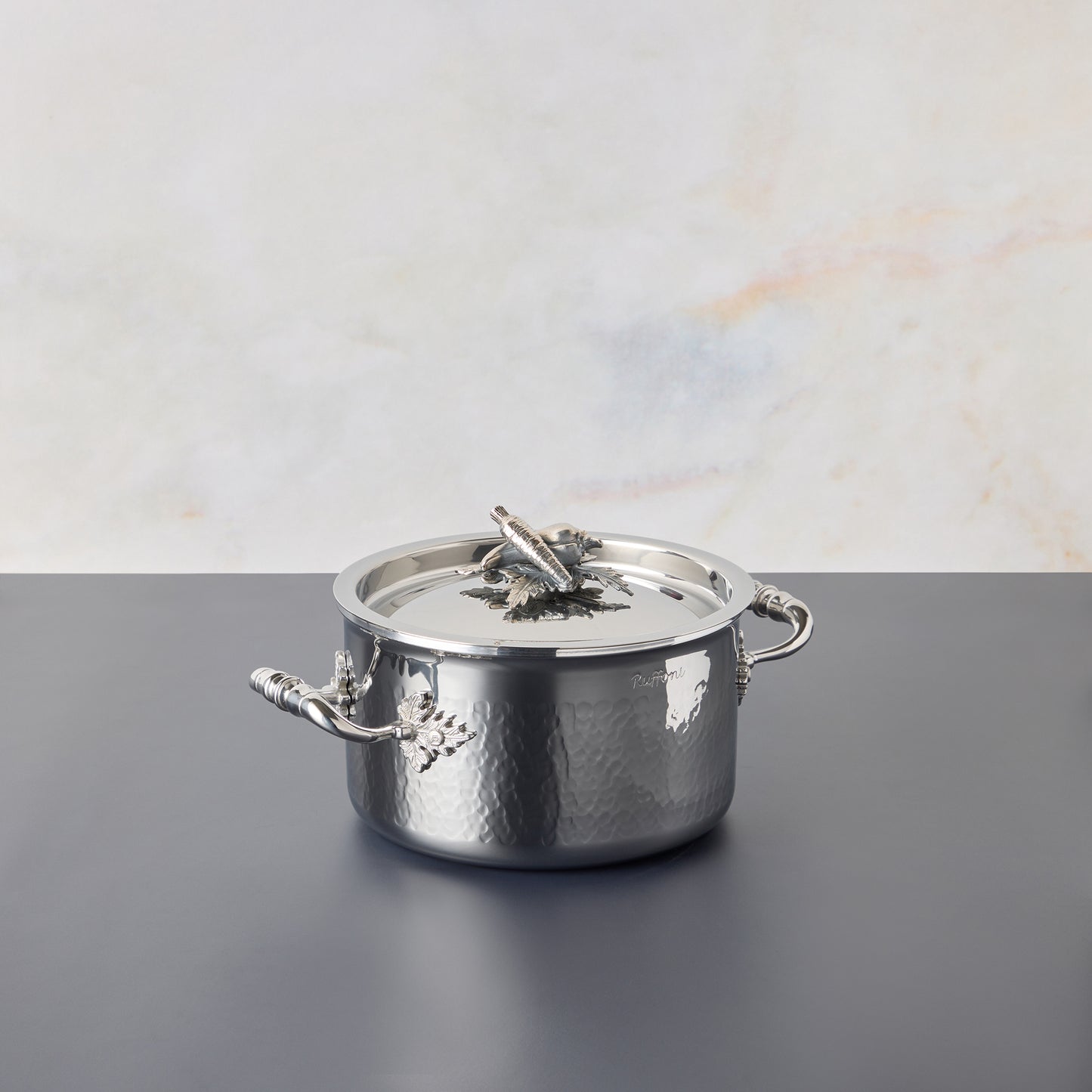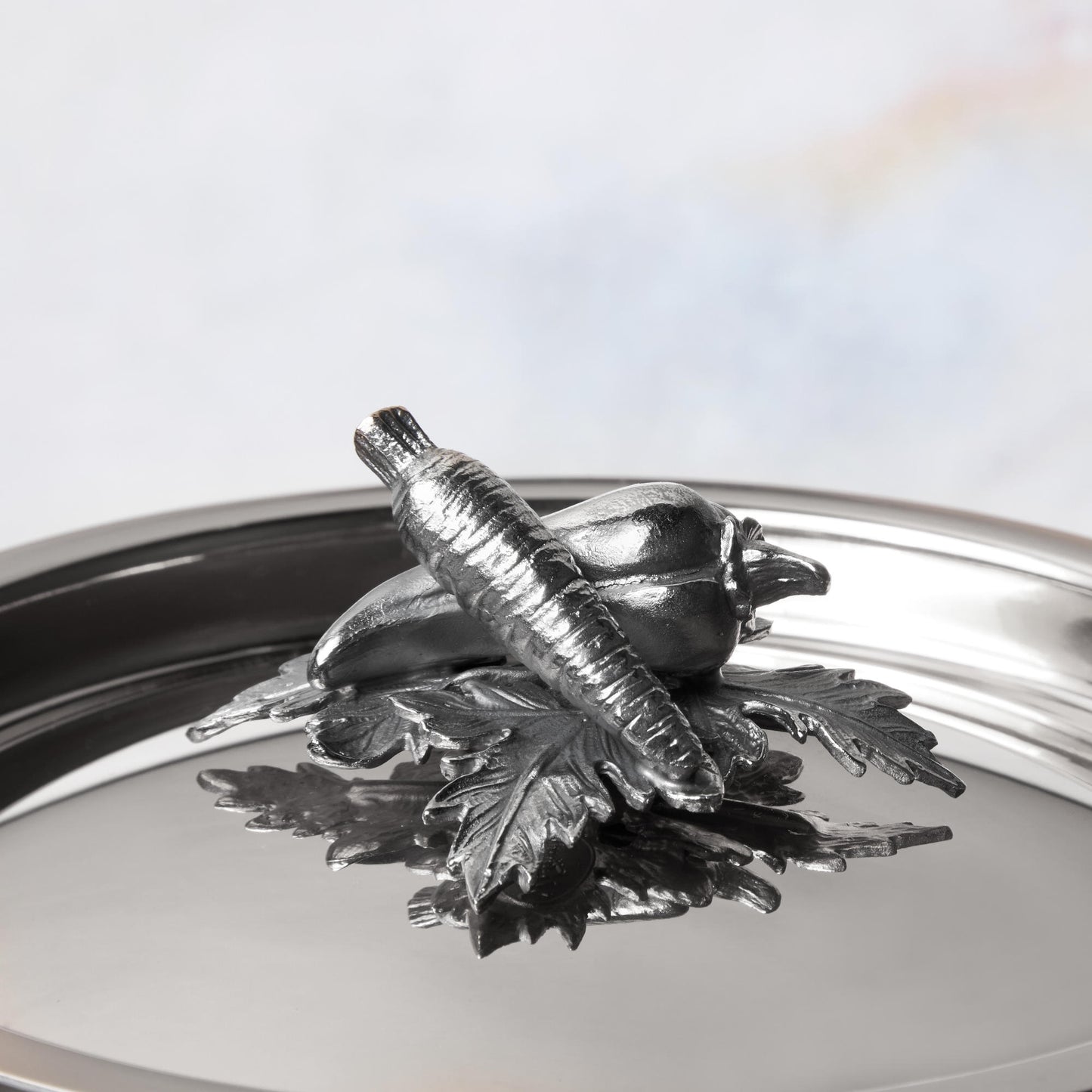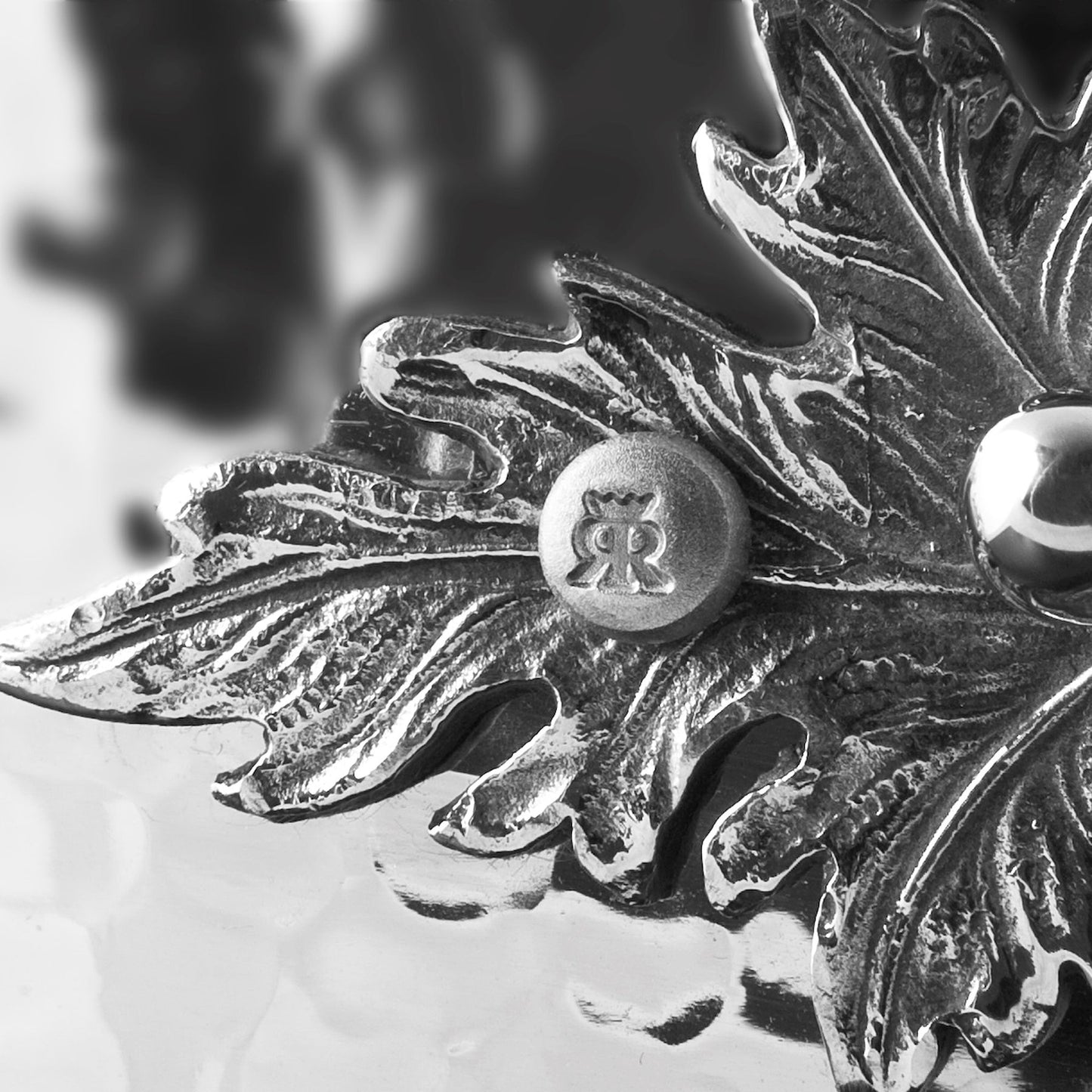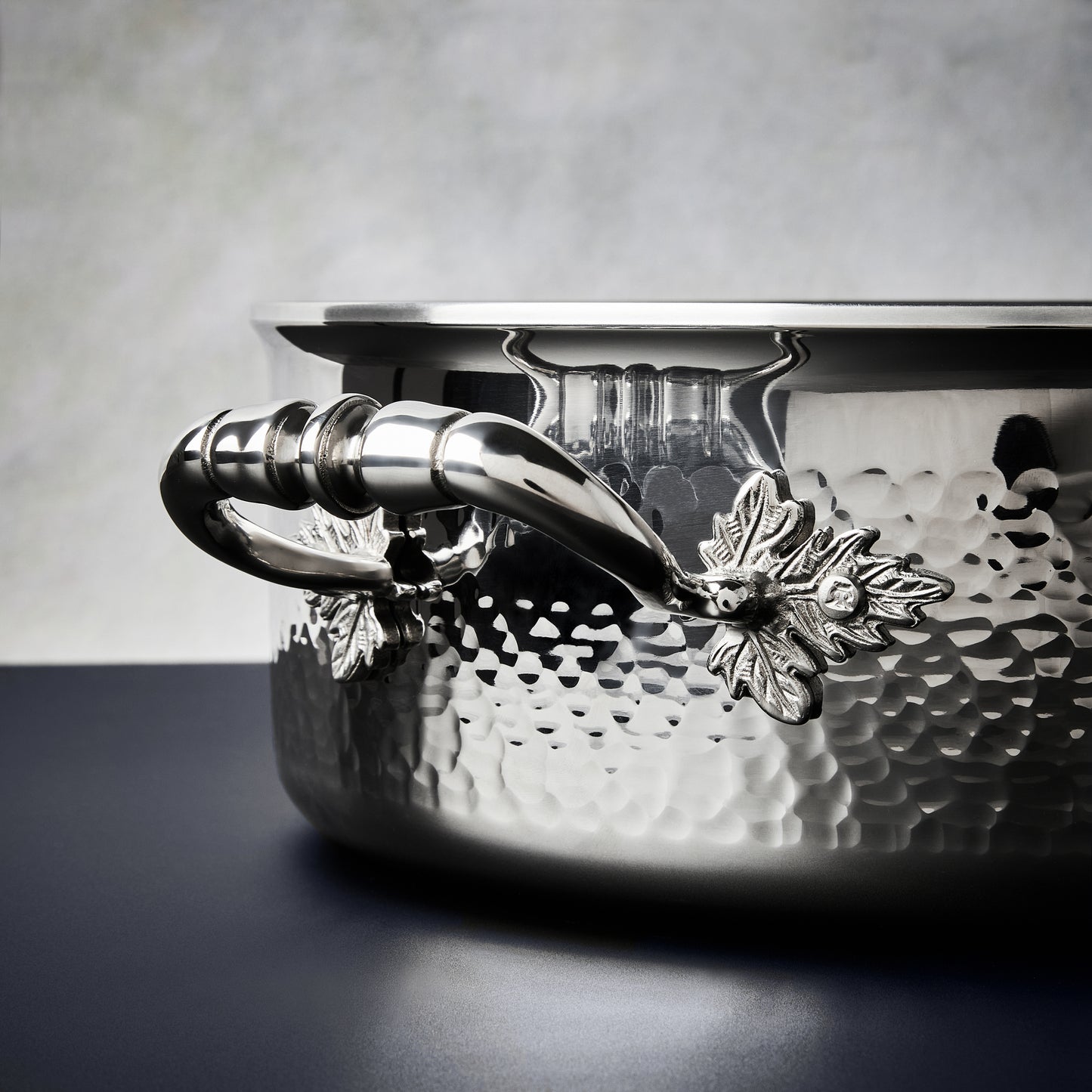 Learn more about this Ruffoni
Small but handy, our little saucepot is ideal for simmering pasta sauces, stocks, and reductions keeping the kitchen splash-free thanks to the included lid. Its scope is not limited to what you can read in its name though: you can use it to create stews and desserts as well!

Made with best-in-class clad stainless steel: a thick core of super conductive aluminum alloy guarantees great responsiveness, ensuring food will not burn or overcook. The inside is lined in stainless steel, practical and easy to clean, whilst the external stainless steel layer is induction-ready and hammered by our master artisans to ensure lasting beauty. The stainless steel handles are decorated with delicate leaves and the lid is crowned by a carrot and pepper knob, cast in stainless steel. Induction compatible.

Made in Italy.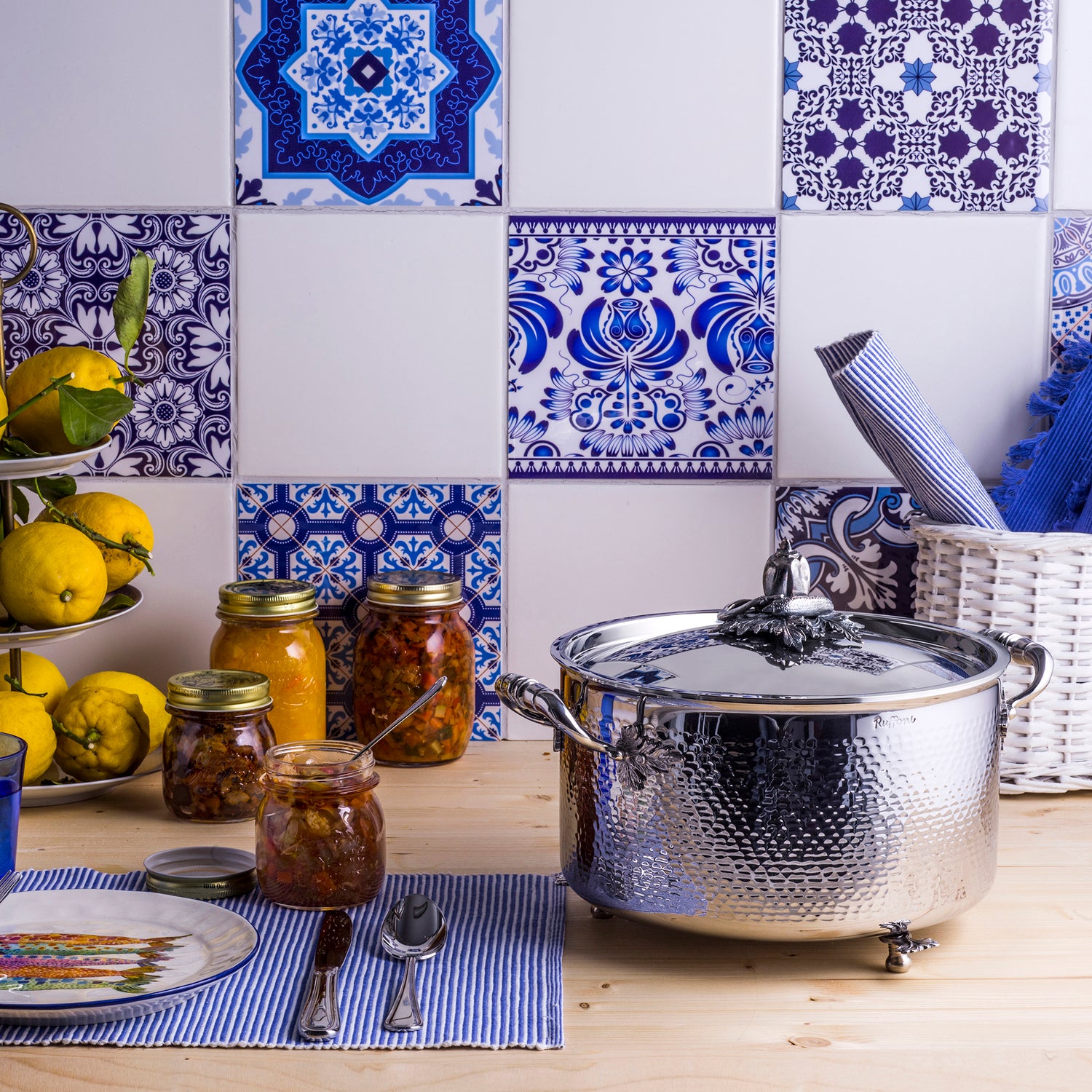 The Opus Prima collection
Prima, meaning "first" in Latin, is the first collection in the world to bring the traditional copper hammering to clad stainless steel – a material appreciated by chefs and home cooks for its fast and uniform heat distribution, and its practical, induction-suitable and easy-to-clean surface. In this Collection, functionality meets Italian flair – hammered by our master coppersmiths in true Ruffoni tradition and mirror polished, the Opus Prima collection features silver plated finials that celebrate our shared culinary history and traditions.

- Thick core of super conductive aluminum for optimal responsiveness: food will not burn or overcook
- Internally and externally coated in mirror-polished stainless steel: practical, scratch-resistant, easy-to-clean and induction-capable
- Hammered by our master coppersmiths to ensure lasting beauty
- Handles and lids are enriched with finials in exquisite shapes such as acorns, artichokes, vegetables and animals to bring warmth and elegance to any table
- Knobs are cast in solid bronze and silver plated by our partner silversmiths in Milan
- Suitable for all hob tops, including induction, and oven-safe up to 450°F
- Lifetime Warranty
- Made in Italy
Shop the Opus Prima collection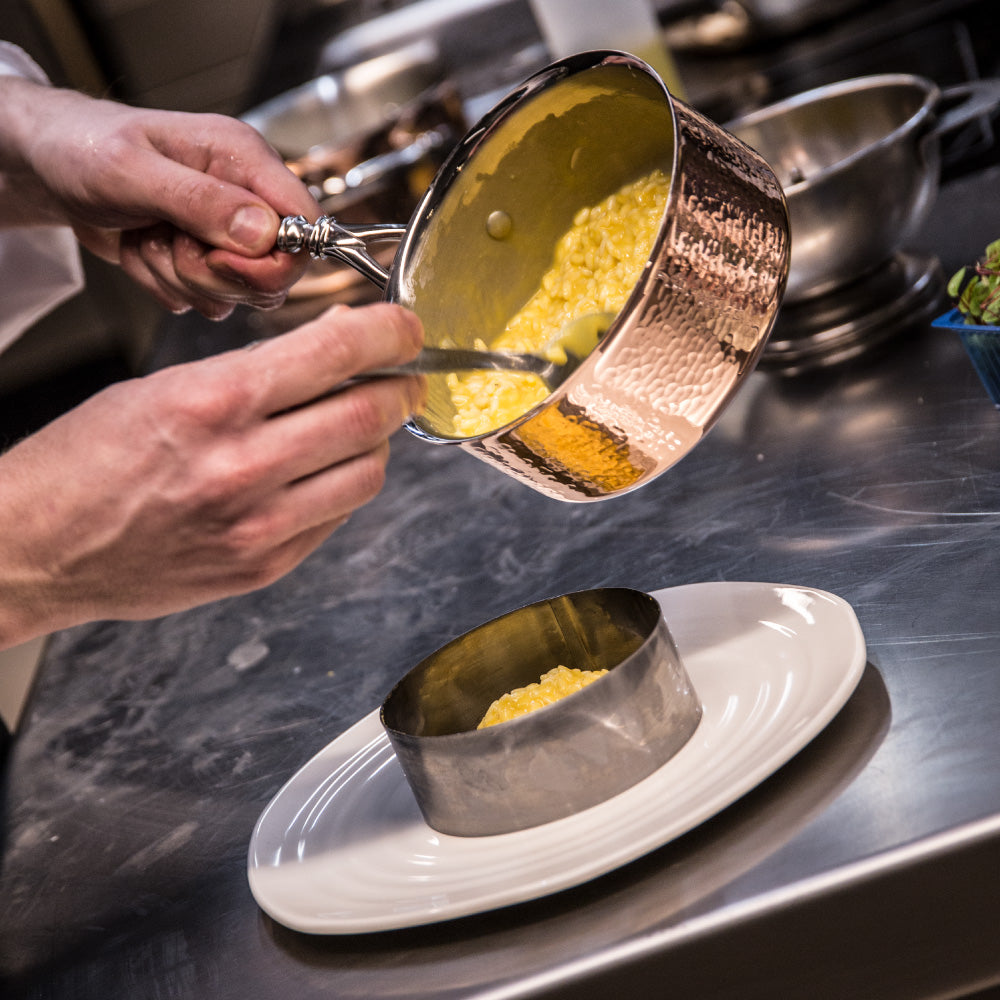 Getting the most out of your Ruffoni Saucepan
A kitchen essential true to its name, the saucepan is great for all manners of sauces and gravies...but it also does a lot more. Start the day heating the milk for the children's breakfast, or preparing a nourishing and creamy oatmeal; at lunch, quickly prepare a tasty sauce for pasta, or reheat last night's leftovers; in the evening, boil fresh green peas as a side, cook rice to a perfect fluffy consistency, keep your homemade stock bubbling as you add it into a creamy risotto, or reduce the roast juices into an irresistible gravy. Finish off the day with a velvety vanilla custard.
Choose the saucepan with a comfortable stick handle for easy pouring, or opt for the saucepot with two side handles to fit neatly on the stove and table. Either way, this small but practical shape is a versatile kitchen ally you will find yourself coming back to again and again.
Bring directly to the table to dress the plate with a delicious steaming hot sauce or to make "scarpetta" by mopping up all the sauce with bread when no one's watching.
Shop Saucepans