Regular price
Sale price
$250
Unit price
per
Ideal for searing, shallow - and pan-frying poultry, fish and vegetables
Crafted in solid copper for unparalleled heat conductivity
Hammered for increased strength and lasting beauty
Lined in stainless steel for practicality and convenience
Made in Italy
View full details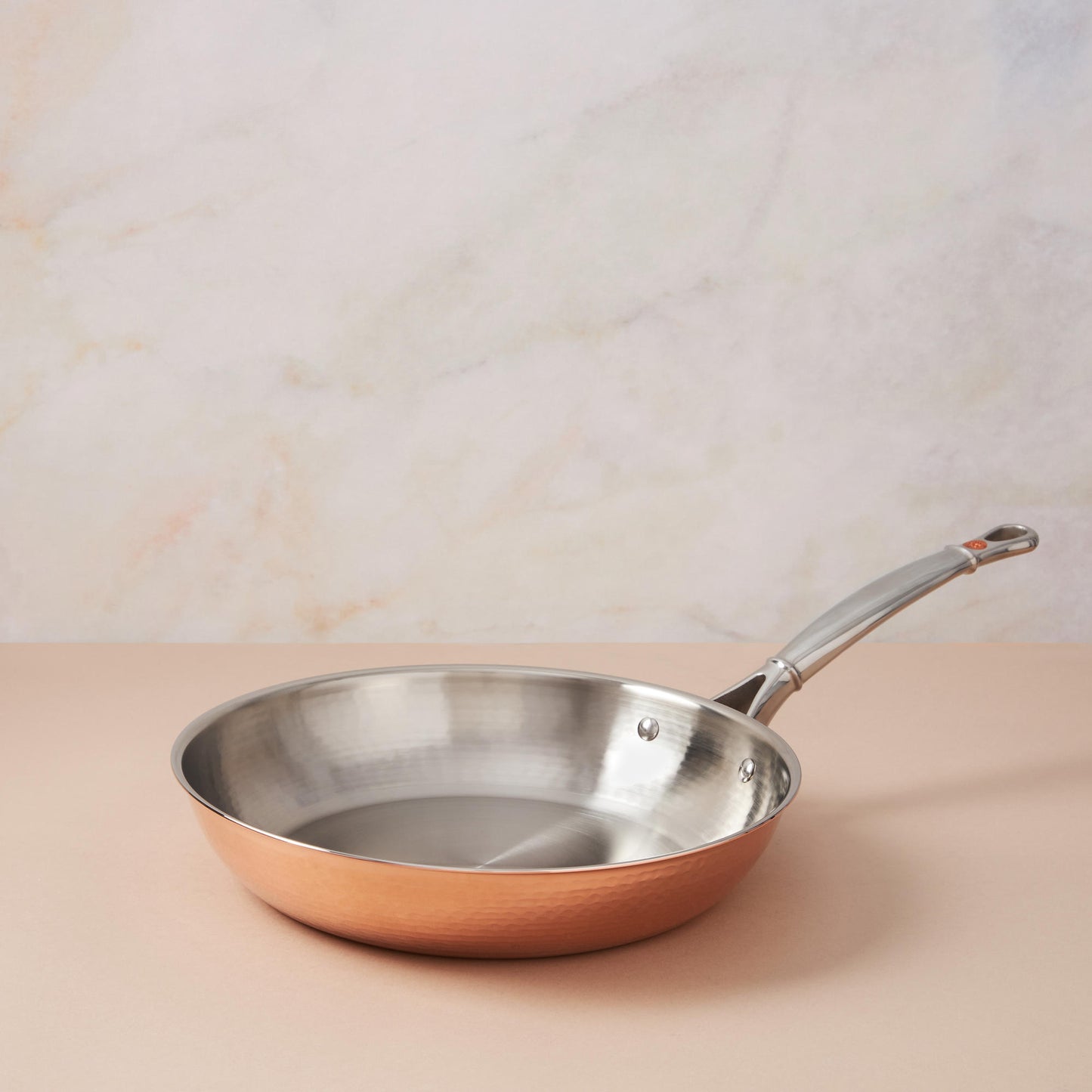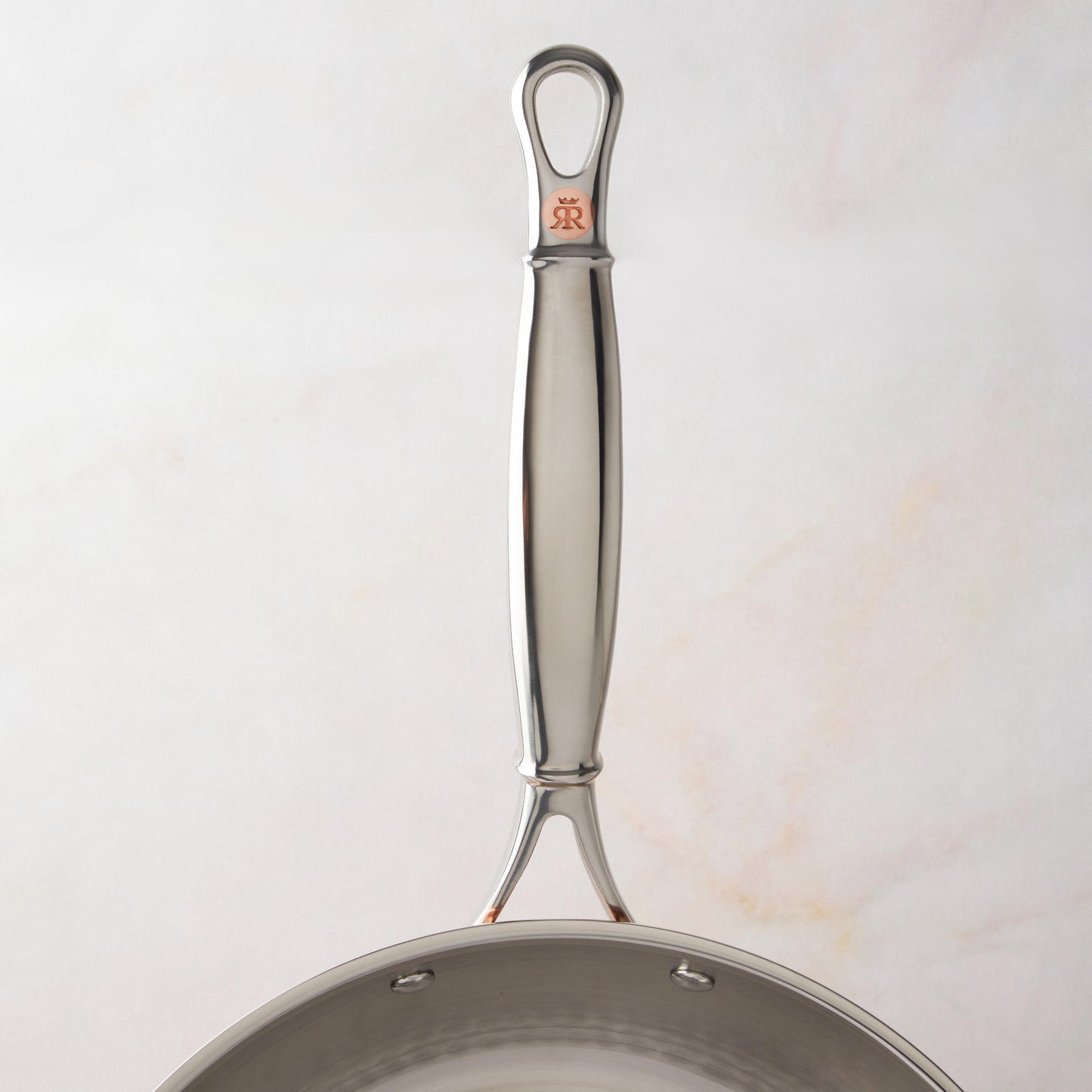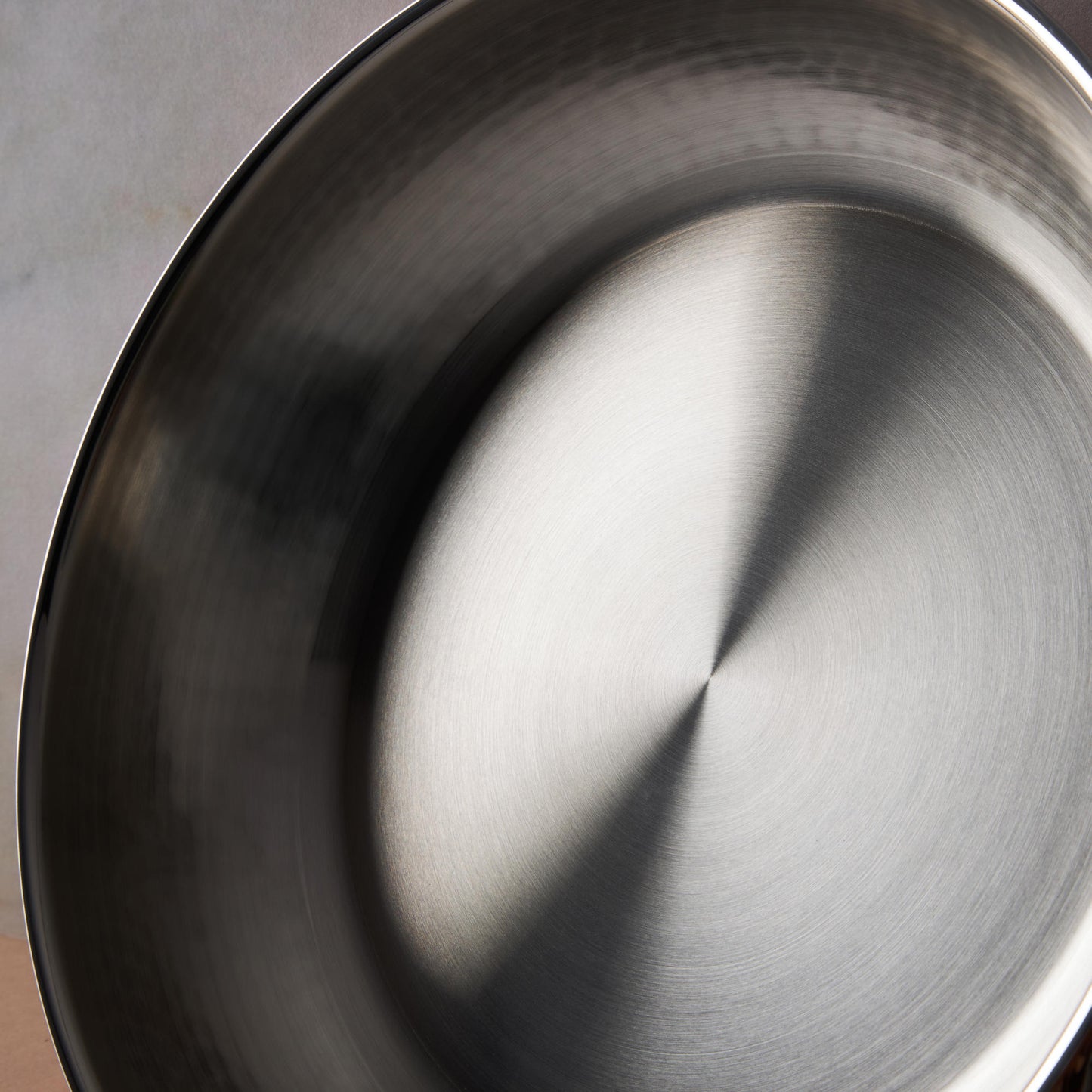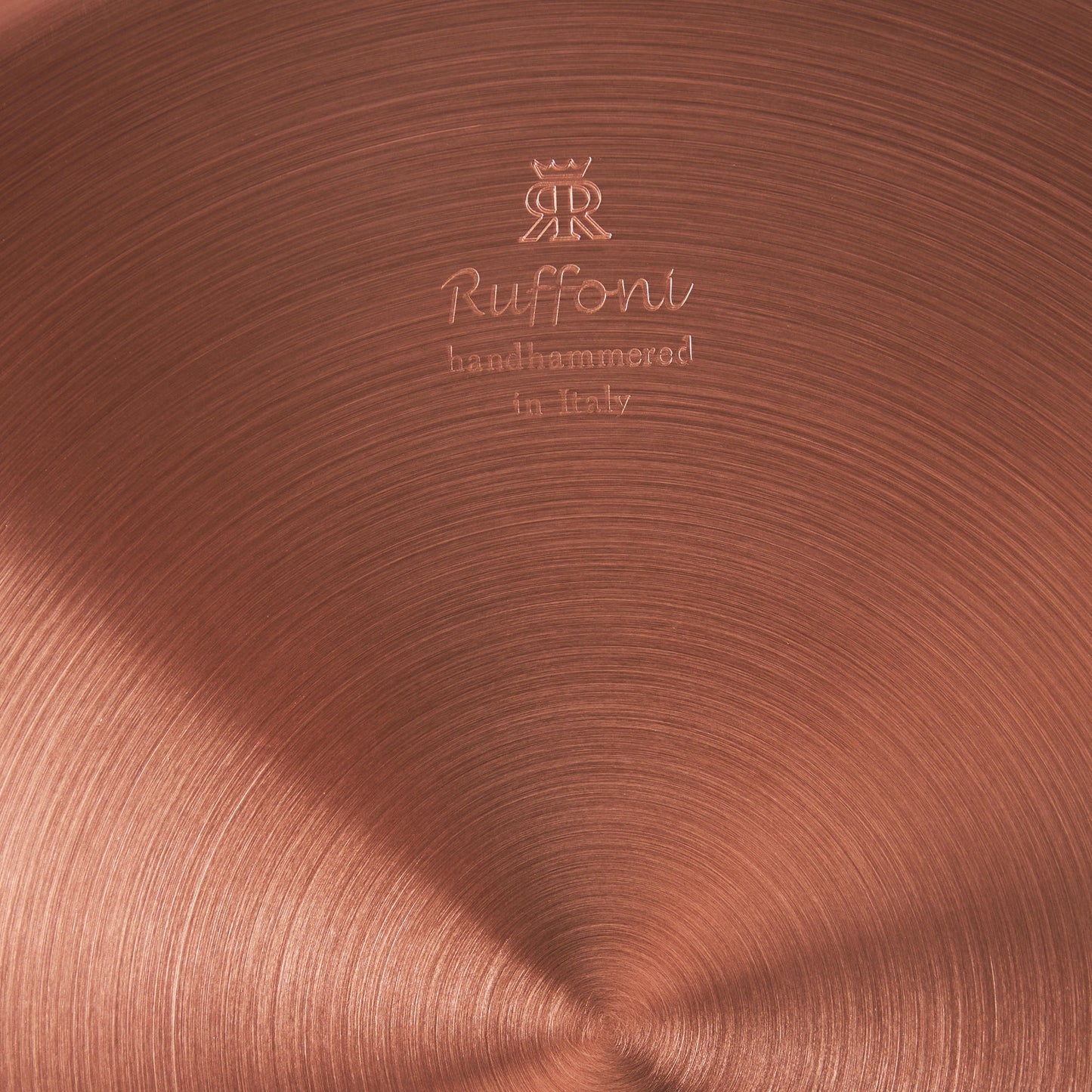 Learn more about this Ruffoni
Thanks to the long, ergonomic stick handle and its super responsive solid copper body, the Symphonia Cupra frying pan will prove an invaluable kitchen helper. Sear chicken, scallops or shrimp, pan-fry asparagus and mushrooms, or take the healthy way and sauté some leafy greens. Use white wine, lemon juice, soy sauce or simply water to deglaze your pan after a Maillard reaction to create a quick and delicious pan sauce and capture all the flavorful bits!

Made in solid copper for superior heat conductivity, hammered by our master artisans for increased strength and lasting beauty, and internally lined with practical, easy-to-care-for stainless steel for daily convenience. The stick handle is made of stainless steel to limit heat transmission, with an ergonomic shape and inlaid copper coin guaranteeing authenticity.

A trustworthy ally to prepare and serve countless delicious meals, and effortlessly adorn the kitchen when not in use.

Made in Italy.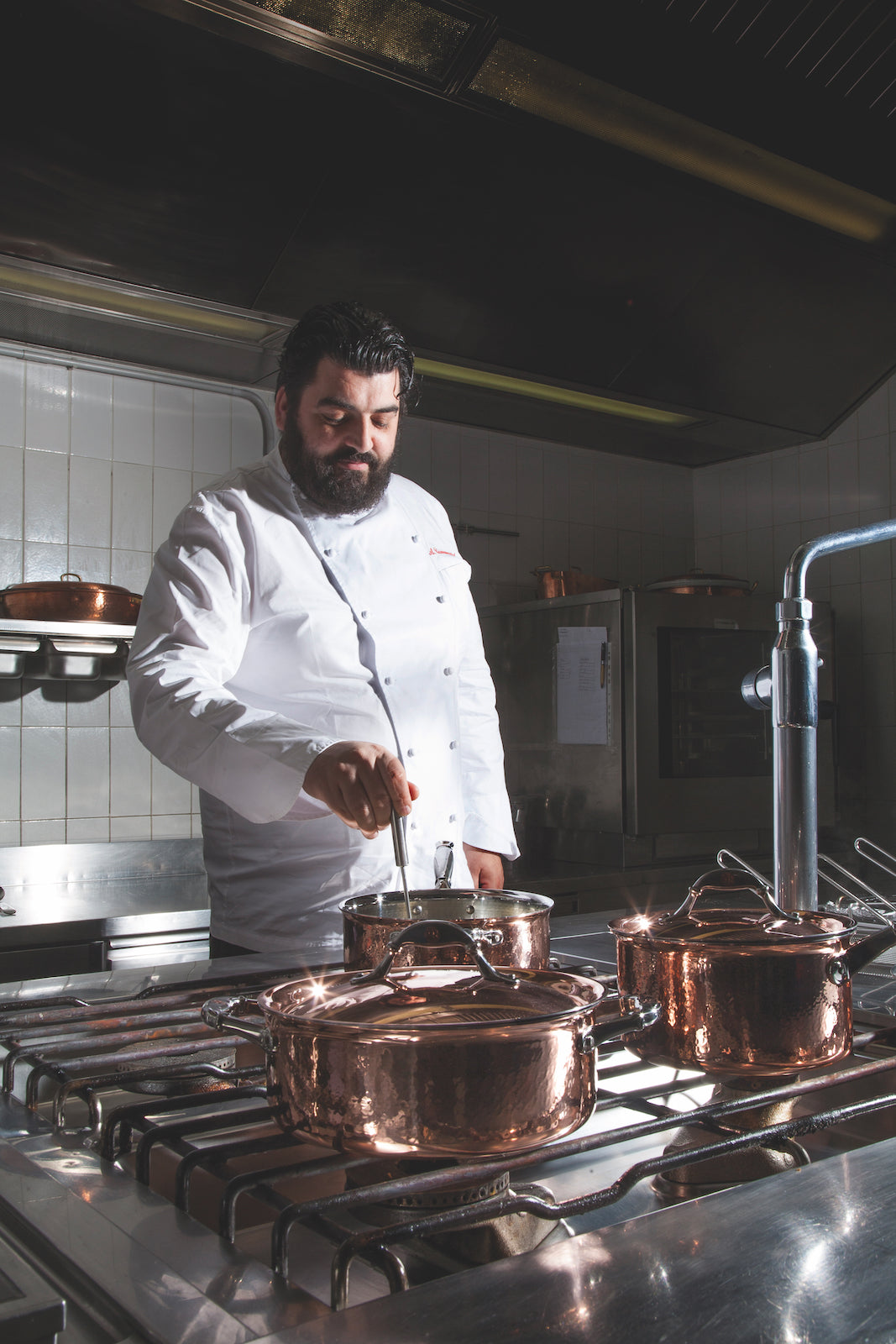 The Symphonia Cupra collection
Symphonia, which means 'symphony' in Latin, is the harmonic complex of sounds and voices that make a melody. Like a symphony in the kitchen, this collection seamlessly merges the unsurpassed cooking performance of solid copper and convenience and durability of internal stainless steel lining, with just a touch of Italian flair in the form of the signature Ruffoni hand-hammered finish, and striking handles inlaid with a stamped copper coin:
- Thick copper cookware for great thermal conductivity, to ensure great control while cooking
- Internally coated with practical, easy-to-clean and scratch-resistant stainless steel
- Hammered by our master coppersmiths to ensure increased strength and lasting beauty
- Comfortable stainless steel handles, attached with durable stainless steel rivets, are inlaid with the signature Ruffoni copper coin for a unique look and guaranteed authenticity
- Solid copper clad lids
- Suitable for all hob tops excluding induction and oven-safe up to 450°F
- Lifetime Warranty
- Made in Italy
Shop the Symphonia Cupra collection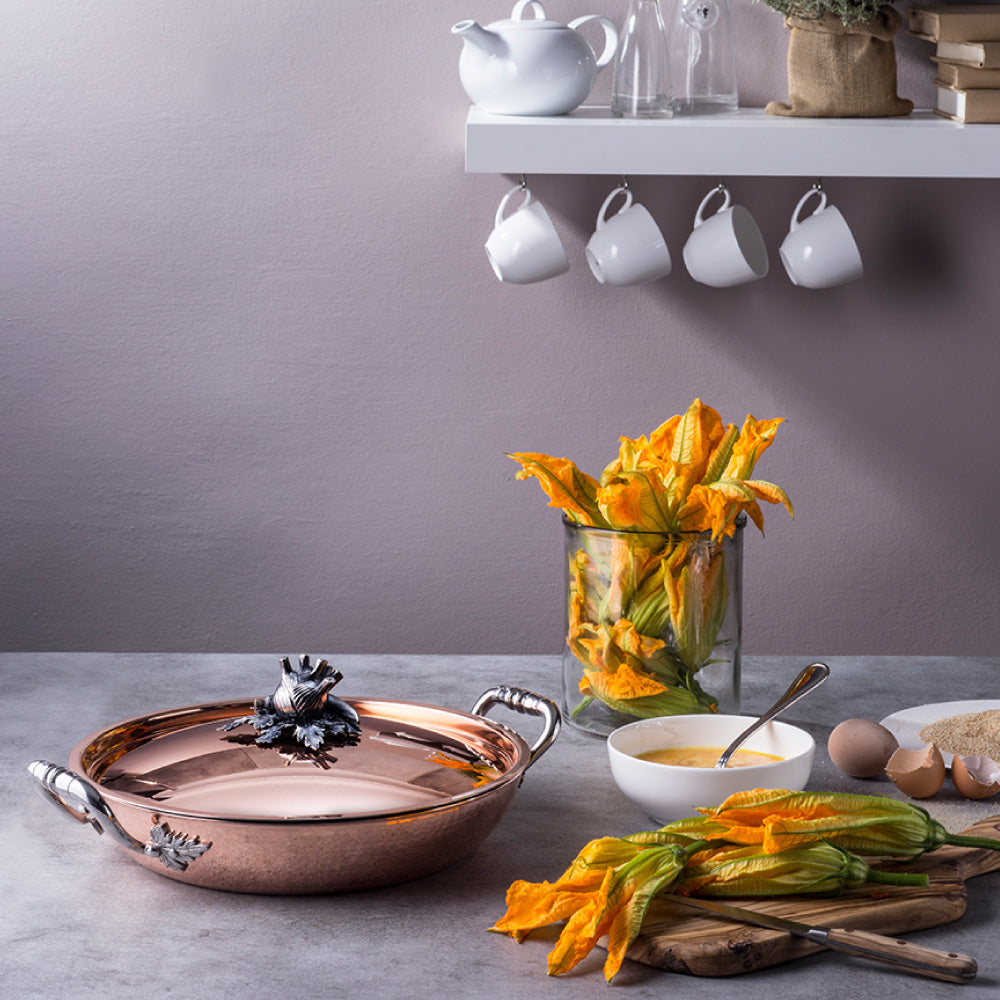 Getting the most out of your Ruffoni Fry Pan
A good fry pan allows you to sauté vegetables, sear meats and shallow-fry almost any kind of ingredient. Constructed of solid copper or highly conductive clad stainless steel, Ruffoni fry pans are also well suited to cook delicate foods.
Our fry pan is a practical and versatile kitchen ally that you will find yourself using at different times of the day for the most different recipes. Let the children wake up to the smell of freshly made pancakes for a sweet Sunday treat, and fry some eggs for the grown-ups. Come lunch time, use to sauté all kind of veggies, then sear and pan fry chicken breast or cod fillets and fries for a quick and delicious dinner.
For even more flexibility, pick a fry pan with lid: wilt spinach and other leafy greens in their own water, then finish open, with a splash of cream and freshly cracked black pepper. Gently roast peppers, onions, tomatoes and spices for a deliciously caramelized shakshuka, then crack in some eggs and cover with the lid to firm up the whites.
Our serving shape, with two side handles, is especially designed to sit at the center of a crowded table and serve piping-hot food in style. Or pick a frying pan with the traditional long stick handle and hang it on display, so it adorns your kitchen and is always within reach.
Use tip: remember that copper cookware never needs to be pre-heated, and always use a bit of oil or butter to prevent sticking.
Shop Frying pans